The first and most effective way for safeguarding electric scooters is to use electric scooter locks. Electric scooter locks are available in a variety of styles and combinations, each with its own set of functions to fulfill the unique needs of scooter owners.
Electric scooters have grown in popularity as a practical and environmentally responsible means of transportation. With the growing number of electric scooters on the road, owners are more concerned about their safety.
Electric scooters are easy to steal due to their small size and lightweight. As a result, it is critical to invest in dependable security solutions to safeguard your important asset.
Read More: 17 Best Electric Scooter Accessories for Unforgettable Rides
Different Types of Electric Scooter Locks
Cable Locks
Because of its lightweight and portable form, cable locks are a popular choice for electric scooter owners. A flexible steel cable with a locking mechanism at one end is used to make these locks.
They are versatile since the cable can be wrapped around the scooter's frame or a stationary object to prevent unlawful movement. Cable locks are easy to use and give a minimal level of security.
NDakter Lock

Set personalized 5-digit combination for added security.
High-strength braided steel withstands 2.4KN tension and 7KN shear force.
Self-coiling lock with mounting bracket for easy portability.
Versatile lock for bikes, motorcycles, scooters, and more.

Master Lock

Four-digit combination lock for easy use.
Braided steel construction for flexibility and strength.
Protective vinyl coating prevents scratching.
4 ft. (1.2 m) length for versatile use.

Seway Lock

Braided steel wire withstands high tension and shear force.
PVC coating prevents scratching and enhances durability.
Keyless 4-digit combination lock for convenience.
Universal fit for electric scooters, bicycles, ladders, and more.
U-Locks or D-Locks
U-locks, sometimes known as D-locks, are highly recommended for increased security. These locks are composed of hardened steel and formed like a U, giving a strong deterrent to thieves.
U-locks are well-known for their resistance to cutting and prying, making them an excellent choice for high-risk environments. They are long-lasting, dependable, and provide a high level of security.
ScooterMax U lock

High-security U lock with hardened 13mm steel resistant to 20T hydraulic shears.
Weather-resistant rubber coating for scratch protection.
Steel construction with anti-drill Swiss lock mechanism.
Large size for locking two e-scooters simultaneously.

USHAKE U Lock

Keys-free combination lock
Easily set your own 4-digit combination for convenience and security.
Strong 10mm hardened shackle resists cutting and leverage attacks, with PVC coating to prevent scratching.
Durable and heavy-duty U-lock with plastic-covered cylinder for top security.

Seway Scooter Lock

16mm hardened steel shackle for maximum resistance.
4″ x 10.25″ interior locking dimensions.
Key Safe Program for free key replacement.
$4,000 anti-theft protection reimbursement.
Chain Locks
When it comes to locking electric scooters, chain locks provide both variety and strength. They are comprised of a strong chain with hardened steel links. The chain's length allows it to wrap around the scooter and a stationary object, such as a bike rack or pole.
Chain locks are frequently sold with a padlock or combination lock to increase their security. They are suitable for attaching scooters to various structures and provide a high level of security.
Sportneer Chain Lock

Keyless convenience with a 5-digit combination lock for enhanced security.
Extra thick manganese steel construction for high cut resistance.
Easy-to-set and reset personalized number combinations for convenience.
3.2-foot long flexible chain for versatile locking applications.

Seatylock Lock Chain

Silver-rated bike lock with strong antitheft guard system.
Patented magnetic closure for easy locking and weatherproof protection.
Durable lock with rust-resistant neoprene cover and automatic keyhole shutter.
Folding Locks
Folding locks are a good alternative if portability and convenience are important to you. These locks are constructed of interconnected metal bars that can be folded or unfolded to form a safety loop.
Folding locks are lightweight, compact, and easy to transport, making them a popular choice for riders looking for a lock that will not add considerable weight to their electric scooters. Despite their small size, folding locks offer dependable security.
FoldyLock Classic Folding Lock
Key features
3-year warranty for a top-rated portable bike lock.
Patented heavy-duty anti-theft design for maximum protection.
Easy to use and carry with flexible foldable lock and included accessories.
Secure and silent ride with frame mount and mounting bracket set.
Smart design for stylish and secure bike protection with hardened steel components.
Ring Locks
Ring locks, sometimes known as wheel locks, are frequently used in conjunction with other locks to give total security. These locks are directly attached to the electric scooter's back wheel, immobilizing it and preventing it from being rolled or ridden.
Ring locks, while not as powerful as other types of locks, operate as a deterrent against opportunistic theft and provide an extra layer of safety.
Kryptonite Unisex Adult Ring Lock
Key features
High-quality frame lock for enhanced security.
Anti-drilling cylinder for added protection against tampering.
Ergonomic design for comfortable and easy usage.
Suitable for both men and women.
Disc Brake Locks
Disc brake locks are specialized security devices designed exclusively for electric scooters with disc braking systems. These locks are directly attached to the brake rotor and prevent the wheel from rotating.
Disc brake locks are small and easy to transport, and their very appearance deters potential thieves from targeting your motorcycle. They provide convenience and security for scooters with disc brakes.
SEWAY Disc Brake Lock
Key features
Strong alloy steel body with waterproof design.
Includes 4ft reminder cable for added safety.
Easy push-button locking system with ergonomic stainless steel keys.
Fits most electric scooters with 6mm pin diameter.
Package includes disc lock, 2 keys, and specialty mount. 30-day money-back guarantee.
Alarms
In addition to physical locks, electric scooter locks with built-in alarms provide an additional level of security. When unlawful movement or tampering is detected, motion sensors or tamper detection devices sound an alarm.
Alarmed locks act as a strong deterrent, alerting nearby people to suspected theft and boosting the overall security of your electric scooter.
WSDCAM Anti-Theft Bike Alarm
Key features
Mounting bracket for secure and stable installation on your bike.
Up to 113 dB loud alarm with adjustable volume levels for effective theft deterrence.
7-level adjustable sensitivity and IP55 waterproof rating for outdoor use.
Vehicle search function, 3 bell options, and wireless remote control with a strong range of up to 66ft.
Vibration-triggered alarm is suitable for various vehicles and can also be used as a noise maker to scare away animals.
Choosing the Right Electric Scooter Locks
Application of the Lock
Think about where and how you'll use an electric scooter lock before you buy one. A lightweight, portable lock, like a cable lock or folding lock, may be useful if you use your scooter primarily for short distances and need a lock for quick pauses. A stronger lock, like a U-lock or chain lock, will provide more security if you frequently leave your scooter unattended in high-risk regions.
Choosing a Robust and Secure Electric Scooter Lock
Opting for a lock with robust construction and advanced security features can significantly enhance the protection of your electric scooter.
Material and Strength: Look for locks made of steel that have been toughened or other materials that have high strength. These components offer strength and make it challenging for thieves to cut or break the lock.


Cutting and Sawing Resistance: Select a lock that is specifically intended to resist cutting and sawing efforts. Consider characteristics like thick, heavy-duty chains that are difficult to cut with bolt cutters or saws or strengthened shackles.


Resistance to Drilling: Some determined burglars might try to drill through the lock mechanism. Choose a lock with anti-drill features, such as a reinforced steel casing or anti-drill pins, to thwart this. It is difficult for burglars to get past the lock cylinder because of these qualities.


Resistance to Picking: Another frequent thief tactic is lock picking. Think about locks with anti-pick features like intricate keyways or unique pin arrangements. Unauthorized individuals will find it more challenging to manipulate these characteristics and acquire access.


Added Security measures: Some locks provide added security measures that reduce theft attempts even further. Anti-pull cylinders, anti-twist devices, and double-locking devices that require several steps to unlock are a few examples of these.
Electric scooter security is substantially improved by selecting a lock that is resistant to cutting, sawing, drilling, and picking, which discourages thieves and delays their stealing efforts.
Selecting the Right Type of Lock
It is vital that you choose the correct sort of lock for your electric scooter. While evaluating the unique characteristics and benefits of each lock type stated earlier, consider elements such as ease of use, mobility, and the level of security required. Consider your unique needs and preferences to make an informed decision.
Consider features like weather resistance and durability as well. Look for locks that have weatherproof coatings or coverings to keep the elements out of rust and ensure long-lasting performance.
Photo Credit: landpet
How to lock an Electric Scooter
Assessing Electric Scooters for Secure Locking Points
Take a minute to inspect your electric scooter for proper locking points before securing it. Look for pieces of the scooter that are solid and fixed, such as the frame or handlebar stem, that can survive forceful attempts to break the lock. Locking the scooter to easily replaceable or delicate components may jeopardize its security.
Choosing Safe Parking Areas
It is critical to choose secure parking spots to reduce the danger of theft. Choose well-lit, highly visible areas with substantial foot traffic whenever possible. Potential thieves may be deterred by areas near security cameras or monitored venues. Check for designated scooter parking places and use them whenever possible if you're on a college campus or in a public location.
Locking the Scooter to a Permanent structure
Always attach your electric scooter to a permanent structure, such as a bike rack, solid pole, or authorized scooter parking stand, to improve its security.
Check that the fixture is properly fastened and cannot be readily dislodged or tampered with. You make it more difficult for thieves to steal your scooter by securing your lock to a fixed structure. For example, you can use a bike rack for your electric scooter locking.
Pass the lock through the designated secure place on the scooter, such as the frame or wheel, when locking it. To prevent leverage attacks, make sure the lock has as little slack as possible. Check to make sure the lock is correctly engaged and firmly latched. Check that the lock is neither loose nor easily manipulated.
Source: TWO TIPS FOR PROTECTING YOUR BIKE OR E-SCOOTER
Additional Security Measures
In addition to physical locks, there are several electronic theft deterrents available to enhance the security of your electric scooter.
Key-Lock Ignition – Some electric scooters use key-lock ignition systems, which are similar to those found in autos. This function necessitates the usage of a special key to start the scooter, offering an extra layer of security against unauthorized use.


NFC Card Reader – As a secure authentication technique, NFC card readers can be fitted into electric scooters. Only authorized NFC cards or tags can be used to activate the scooter, adding an extra layer of protection.


Fingerprint Reader – Advanced security measures such as fingerprint readers allow only registered fingerprints to unlock and operate the scooter. Only authorized individuals can access and operate the scooter thanks to this biometric authentication mechanism.


Digital Password – Some electric scooters have digital password systems that require users to enter a specific code in order to unlock and activate the scooter. This increases security because only those with the correct password may gain access.


Remote Locking Apps – Many electric scooters can be linked to smartphone apps that allow for remote locking and unlocking. These apps allow users to lock and unlock their scooters wirelessly, adding convenience and security.


GPS Trackers and Apple AirTags – Installing GPS trackers or utilizing Apple AirTags will help you locate your stolen electric scooter. These devices enable you to trace the scooter's whereabouts in real-time, improving the likelihood of its recovery.
Best Practices for Locking an Electric Scooter
Assessing Secure Locking Points
Before locking your electric scooter, carefully assess the scooter for secure locking points. Look for sturdy and fixed parts of the scooter, such as the frame or handlebar stem, that can resist forceful attempts to break the lock. Avoid locking the scooter to easily removable or fragile components that may compromise its security.
Selecting a Safe Parking Area
Choose a safe parking area to minimize the risk of theft. Opt for well-lit and highly visible locations with a higher level of foot traffic. Areas near security cameras or monitored spaces provide an additional deterrent to potential thieves. If available, use designated scooter parking areas on college campuses or in public spaces.
Proper Techniques for Locking the Scooter
Use a strong, high-quality lock that gives resistance to cutting, sawing, and prying when locking your electric scooter.
In order to prevent leverage attacks, pass the lock through a secure place on the scooter's frame or wheel with the least amount of slack possible.
Verify again that the lock is correctly fastened and engaged, making sure it is not slack or readily manipulated. Consider employing numerous locks, such as a U-lock and cable lock combination, for increased security.
Securing the Scooter to a Bike Rack
It's crucial to align your electric scooter closely against the bike rack before securing it to the rack so that the lock may pass through both the frame and the rack.
Make sure the lock is tightly fastened and impossible to manipulate or remove by threading it through the frame of the scooter and around a sturdy portion of the bike rack.
Give the scooter a light tug to make sure it is firmly fastened to the bike rack to test the security.
Troubleshooting and Maintenance
Fixing Sticking Keys in Electric Scooter Locks
If you encounter an issue with sticking keys in your electric scooter lock, follow these steps to address the problem:
Lubricate the lock: Directly insert a little amount of graphite-based lock lubricant into the lock mechanism. Graphite lubricant is manufactured specifically for locks and reduces friction, allowing the key to turn smoothly.


Insert the key and gently wiggle it back and forth: Insert the key into the lock and gently wiggle it back and forth. This movement aids in the distribution of the lubricant and the removal of any debris that may be causing the sticking.


Remove any impediments: Examine the key and lock for apparent debris or foreign items. Remove any obstacles that may be impeding the key's movement with a small, pointed tool, such as a toothpick or tweezers.


Test the key: After lubricating and removing any blockages, try twisting the key in the lock again. It should go smoothly and without sticking. If the issue continues, think about getting professional advice or getting in touch with the lock maker for more information.


Cleaning a Lock That Has Had Liquid in It
If any of your electric scooter locks have come into contact with liquid, follow these steps to clean it:
Take out the key and any surplus liquid: Remove the key from the lock and gently shake it to remove any excess liquid. Wipe away any visible wetness on the lock surface using a lint-free cloth.


Dry the lock: In a well-ventilated environment, let the lock air dry naturally. Heat sources, such as hair dryers, should be avoided because they can harm the lock mechanism.


Apply a lock-specific cleaner: After the lock has dried, use a lock-specific cleaner to remove any remaining liquid or grime. Follow the manufacturer's instructions for the cleaner and clean the lock well with a gentle brush or cotton swab.


Lubricate the lock: Apply a tiny amount of graphite-based lock lubricant to the lock mechanism after cleaning to guarantee smooth functioning. This aids in the prevention of future sticking or corrosion.


Test the lock: Insert the key into the lock and see if it spins smoothly and without any problems. If the lock continues to malfunction or if there is permanent damage from the liquid exposure, seek professional assistance or contact the lock manufacturer for further assistance.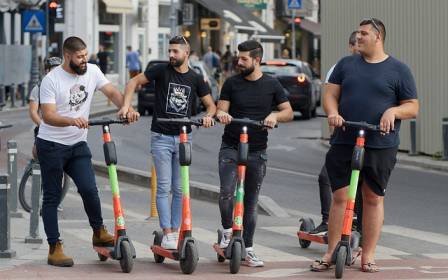 Addressing Specific Locking Scenarios
Locking an Electric Scooter to a Bike Rack
Scooter placement: Place the scooter next to the bike rack, making sure there is room for the lock to move around.


Identify strong, immovable portions of the scooter, such as the frame or handlebar stem, that can withstand attempts to forcefully unlock the lock, such as secure locking points.


Through the rack and frame, thread the lock: Pass the lock around a substantial portion of the bike rack and through the scooter's designated secure point.


Make sure the lock is properly fastened, allowing little room for error to thwart leverage attacks. Test the lock to make sure it is neither flimsy nor simple to pick.


Verify the lock's engagement once more: Make sure the lock is correctly locked and engaged. Give the scooter a gentle tug to confirm it is firmly attached to the bike rack.


Protecting Expensive Electric Scooters
There are various recommended practices you can implement to improve the security of your electric scooter.
First, select high-security locks made of sturdy materials and equipped with features such as anti-pick mechanisms and anti-drill qualities.
Using numerous locks, such as a U-lock and a cable lock, can provide additional layers of security. For further security, consider implementing technological theft deterrents such as key-lock ignition or remote-locking apps.
When parking your scooter, look for well-lit places with surveillance cameras and a lot of foot traffic. It's also a good idea to register your scooter with local authorities or internet databases to boost your chances of recovery in the event that it's stolen.
Conclusion
To prevent theft, you must secure your electric scooter. In this post, we covered the significance of electric scooter security, looked at several lock types, and gave advice on how to pick the best lock and lock it correctly.
We also discussed specific locking circumstances and extra security measures like electronic theft deterrents. We also talked about maintenance and troubleshooting advice. You can properly protect your electric scooter and ride worry-free according to these recommendations.
FAQ
Do I need a lock for scooter?
Yes, it is strongly advised that you secure your scooter. When you're not using your scooter, a lock helps protect it and deters potential thieves. Due to their high value and portability, scooters are desirable targets for theft.
Can you lock up an electric scooter?
Yes, you can lock up an electric scooter for added security and theft prevention using cable locks, chain locks, or U-locks, similar to traditional scooters.
Disclosure: Some of the links in this article may be affiliate links, which can provide compensation to me at no cost to you if you decide to purchase a paid plan. These are products I've personally used and stand behind. This site is not intended to provide financial advice and is for entertainment only. You can read our affiliate disclosure in our Privacy Policy